Prismaflex, an international group accompanying you via its 10 international subsidiaries.
Multi-continental presence
In just 30 years, Prismaflex has become an international group with over 350 employees and 10 international subsidiaries. Thanks to these local sites, Prismaflex is in a position to provide quality services and the required industrial resources, for digital printing and the production of hardware.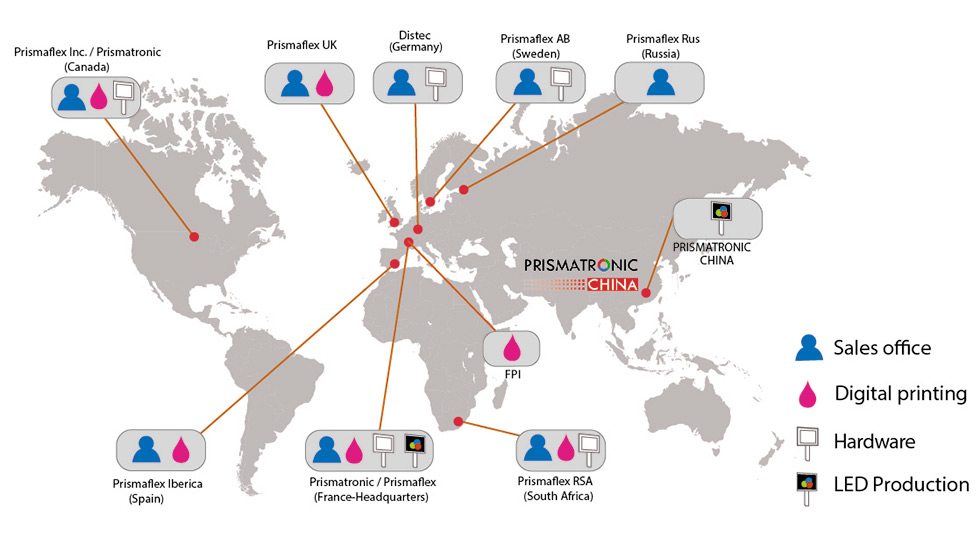 PRISMAFLEX INTERNATIONAL / HEAD OFFICE
309 route de Lyon, CS 50001
69610 Haute-Rivoire, France
Tel : +33 4 74 70 68 00
Fax : +33 4 74 26 30 87
1507 Greenwood Street,
Elisabethtown, NC 28337, USA
Tel : +1 910 900 3275
Mobile : +1 910 872 3066
nmarais@prismaflex.com
Nico Marais
Units 1 & 2 Newhaven Industrial Park Beach Road
Newhaven, East Sussex BN9 0BX, England
Tel : 44 12 73 61 11 72
Fax : +44 12 73 51 55 16
Pierre-Henri Bassouls / Steven Swanepoel
Shenzhen Prismatronic China Electronic Technology Ltd Company
Room 401/501, Building A14, Silicon Valley Power
Intelligent Terminal Industrial Park, No. 20, Kukeng Dafu Industrial Park
Kukeng Community, GuanLan Street, LongHua District, 518110, Shenzhen, China
Tel : +86 135 0102 6191
Pierre-Henri Bassouls / Jeffrey Jiang
Gladbacher Strasse 65
52525 Heinsberg, Germany
Tel : +49 2452 9647 24
Fax : +49 2452 96 47 10
Detlef Kutzera
1645 Queensway E.
Mississauga Ontario, L4X 3A3, Canada
Tel : +1 905 279 9793
Fax : +1 905 279 1330
Laurent Maurize
4 Herman Pieters Street, Hughes
Boksburg 1459, Gauuteng, South Africa
Tel : +27 11 823 5008
Fax : +27 11 823 5009
Glen Cowling
Avda. Sierra de Grazalema, 21
28691 Villanueva de la Cañada, España
Tel : +34 918 155 853
Stein Aalvik
  PRISMAFLEX AB SWEDEN
Kranvägen 2
SE-245 34
Staffanstorp, Sweden
Tel : +46 40 664 63 00
Anders Janson
  PRISMAFLEX RUSSIA
Mebelnaya street 12, Building 1
bisuness center "Aviator", off. 725 (7th floor)
197374, Saint-Petersburg, Russia
Tel : +7 905 256 60 79
Sergey Mesyats
  PRISMAFLEX LATAM
Tel : + 33 6 02 29 01 97
Arnaud Madelin
WEST AFRICA AND CENTRAL AFRICA
Tel : +33 4 74 70 68 00
Joël Denimal
AUSTRALIE
37 Featherwood Ave
Cherrybrook NSW 2126, Australia
Tel : +61 (0)414 260 944
Graham Rees