Back-lit for enhanced visibility, at all times.
Walk-in-box 
…making safety a priority
Our Walk-in Box provides a perfectly safe work environment since all posting, servicing and maintenance operations are performed from inside the unit.
A ladder rail offers access to the side doors, an eye-bolt and external and internal hand rails provide easy and safe access to the lightbox. Once inside, workers simply clip onto the overhead safety system.
Quick posting
The printed faces simply slide along the top and bottom rails.
The larger units (>6 m high) are fitted with a worm drive for quick face tensioning and a winch for the top rail.

---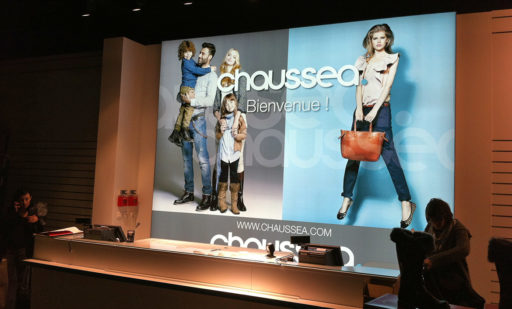 MX lightbox
A backlit face-tensioning frame for bright POP communication. Framed or free-standing, single or double-sided, our MX lightbox is available in three styles:
The standard MX Lightbox.
The MX Slim, for even brighter lighting.
The MX Extra-Slim, the slimmest of all lightboxes.
First class communication: full face, homogenous backlighting, carefully designed box depth, quality printing.
Quick and easy face-tensioning: the sown on plastic surround simply slides into the frame. Ideal for frequent campaign turnarounds.
Low power consumptionthanks to the LED backlighting system.
These lightboxes are specifically designed for their flexibility and ease of use and enable you to adapt your communication to your environment and the style of your displays.
---
Rigiflex Signs
…tried and tested for total reliability
Quick and easy posting
Thanks to the exclusive Rigiflex zip system, fixing a flexible face to a frame takes only a few minutes.
Replacing the face from the front is just as quick and easy.
Dry posting
Tensioning of the flexible face is automatic as it is zipped into the frame for eye-catching results and optimised use.
No more glue, no more paper.
Compact, lightweight and easy to assemble
Adjustable profiles designed for easy installation whatever the size of your sign.
Reduced shipping costs thanks to the adjustable profiles and modular Rigiflex signs.
Various formats available.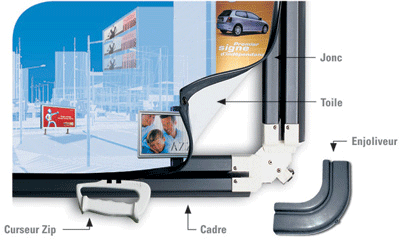 Stretchflex for the Rigiflex
Prismaflex also provides printing solutions for your Rigiflex sign campaigns.
Strechflex is a patented substrate developed by Prismaflex.