Supports measuring under 6 m², often indoor.
Phoenix frame
Printing becomes decoration with this indoor printed face tensioning frame. The simply designed Phoenix Frame takes just a few minutes to assemble without requiring any tools. Simply pull the skin tight over the frame and fix in place using the plastic grip system on the back.
Lightweight and easy to install, just like a picture.
Transforms a rough-edge image into perfectly taut eye-catching.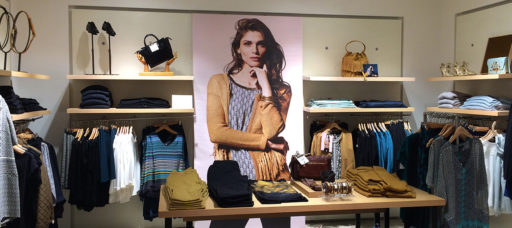 ---
Roll'up
Your mobile communication solution with integrated rough-edge printed banner. A quick and easy to unroll lightweight move-around full face communication solution.
Structure and banner are easy to carry around: just 3.4 kg, protective cover included.
Simple and rapid to set up.
Does not bend or crease.
---
X-Banner
A mobile communication solution with reusable face that goes wherever you go. As a cost-effective solution, our X-banner is both stable and sturdy with quick and easy face-changing operations. Ideal for window displays.
Easy to transport: super light (1.2 kg), protective cover included.
Easy to set up.
Reusable, remove and reposition the face as often as you like.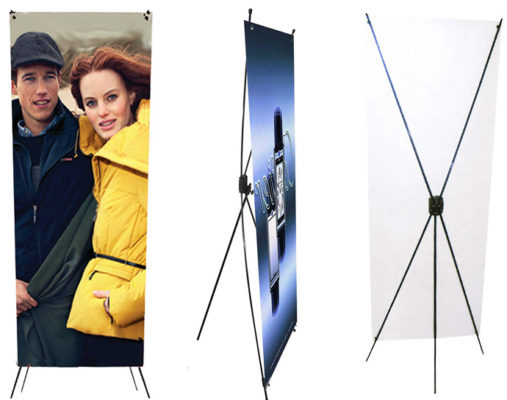 ---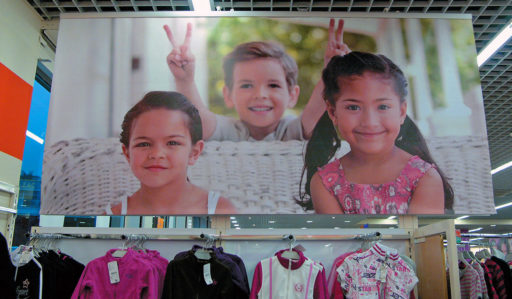 Kakemonos
If you are looking to optimise the space behind your store windows by creating an impression of depth, our suspended or free-standing Kakemonos are what you need for their ease of use and attractiveness.
Suspended Kakemono
Thanks to the different Kakemono hanging solutions (locking profile, plastic clip, double grip profile, aluminium tube, "BAKA" bar) you can now suspend almost anything!
Easy to install.
Flexibility: numerous formats and substrates.
Lightweight and easy to move around for campaign changes.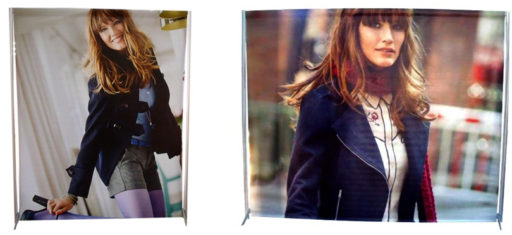 Free-standing Kakemono
A great and effective walk-around classic. The free-standing kakemono has an upper horizontal profile fixed to two uprights with stabilizing feet. Available in single or double-sided versions.
Often used in-store (background displays, product displays, department separations) because it can accommodate images up to 2.5 metres high, it is also extremely popular for its weight and ease of use.
Quick and easy installation (assembly and dismantling) of the structure and banners.
---
Rigid supports
Indoor or outdoor, your communication stands tall! From cost-effective Akylux® to tough Dibond® and Forex® as an indoor solution, Prismaflex prints on a large range of rigid supports using its flatbed printing machines:
Dibond® sandwich panels for long term indoor and outdoor use. Tough reinforced panels, non-corrosive, light and easy to use, can be glued, suspended or screwed for store signs, parking area displays or POP information signs …
3 mm, 5 mm or 10 mm type Forex® PVC foam (plastic) panels. Ideal for your indoor communication: stands, information displays and signs giving times, prices …
3 mm Akylux® honeycomb polypropylene. The honeycomb structure makes this the perfect cost-effective solution for short-term outdoor communication: building site signs, real estate, sporting and cultural events, associations…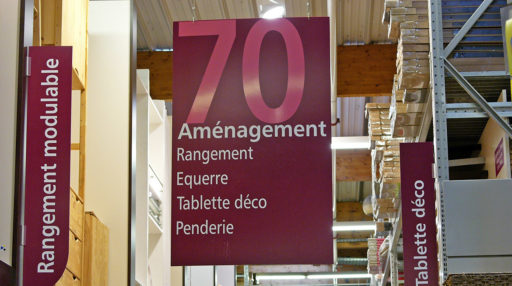 ---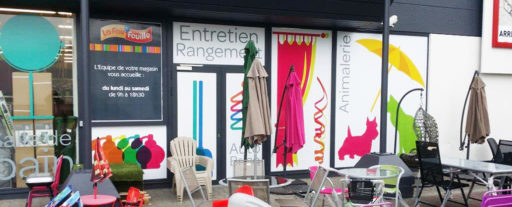 Stickers
A wide selection of high-end stickers to meet all your needs! Prismaflex prints: standard stickers, either transparent or non-transparent for long-term campaigns, repositionable stickers, transparent or opaque, for greater flexibility, micro-perforated stickers, to see without being seen and let the light shine through and plasticized floor decals, with a non-slip treatment in compliance with applicable standards.
Optional finishes: mirror printing, white ink backing, plasticization for underfoot campaigns.
Tailored formats.
The large majority of these products are available for sale online on www.prismaprint.com (in french).