Download and discover the world of Prismaflex.
Interested in a hard copy? Simply contact us!
Prismaflex catalogues
Prismatronic: LED it be
Our LED IT BE Book presents in a series of pictures and graphics of our Prismatronic LED displays up and running around the world: France, Spain, Germany, Brazil, USA, Russia, South Africa…
Prismatronic: the only complete line of LED integrated screens designed and manufactured for the OOH advertising market.
⇛    Explore our Book LED IT BE   ⇚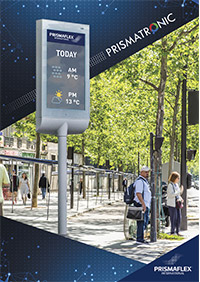 LED Prismatronic
In May 2015, Prismaflex launched the first digital display catalogue.
With full details of:
Our full product range,
Information about the technology, expertise and our full service offer.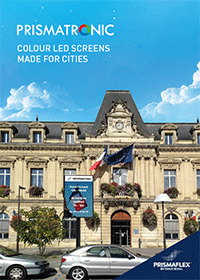 LED catalogue for the cities
Discover the new LED signs dedicated to the smart cities.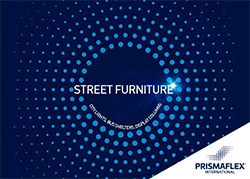 Book Street Furniture
Our Street Furniture Book presents in a series of pictures our Prismaflex planimeter, passenger shelters and columns displays up and running around the world: France, Ireland, Jordan, Russia, Morocco, Czech Republic, Germany, Spain…
⇛ Explore our Book Street Furniture ⇚
Street furniture and advertising displays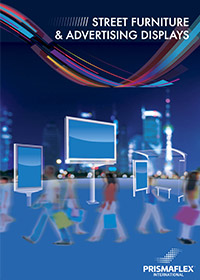 Prismaflex launches its first analogue products catalogue: street furniture and advertising displays: static, scrolling, trivision…
As with the LED catalogue, the complete product range is presented, the service offer and also synergies with other Group activities.
POP
Prismaflex International presented its first POP catalogue at the C!Print show. Discover full details of our POP communication solutions and applications.
From our LED displays to banners, a selection of Indoor and Outdoor solutions… simply everything you need!

LED for pop and retail
Building on the success of our POP catalogue, Prismaflex has enhanced and enlarged its line of digital solutions for the POP and Retail sector.
Whether you are a store or shopping mall… check out our full range of digital solutions designed and produced to meet your needs.
---
Prismaflex Magazines (Flex Up)
Prismaflex regularly publishes Flex UP OOH, a magazine devoted to OOH advertising. It gives details of market trends and offers solutions imagined by Prismaflex. For the Retail sector Flex UP POP presents all our solutions for eye-catching POP communication: from LED displays to banners, lightboxes, frames…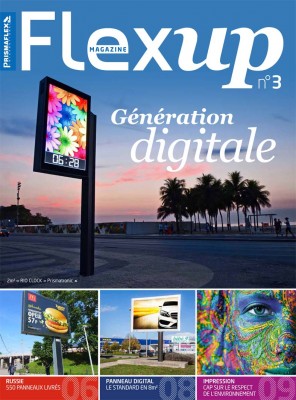 Flex up ooh no. 3: digital generation
In this third issue:
Focus on our new Russian subsidiary
Our strength: the men and women who work for us.
Autonomous signs
Digital printing and respect for the environment
Prismaflex and sport
Flex up ooh no. 2: eco-friendly communication
In this second issue:
Latest news from our subsidiaries
STORMFLEX, the new generation
Street furniture: Prismaflex wanted worldwide
LED, a fast-growing market for Prismaflex
Our Blue Tech® energy-autonomous displays
Inauguration of the Green & Digital Center
Flex up ooh no. 1: led displays, smart communication
In this first issue:
Our Curba Neo scrolling sign, reliable and cost-effective
Stormflex: dry posting + backlit = a winning duo
Prismatronic: so much more than an LED screen
Blue Tech® energy-autonomous displays
Wide format digital printing