For displays over 15 m² with unlimited format possibilities!
Moviflex
Moviflex is a mobile store-front display with an integrated face-tensioning system for posting large format faces from the ground.
Safety: face-changing from the bottom of the display using the manual or motorised winch system (even for very tall displays).
Quick and easy: face changing can be performed by your POP staff.
Flexibility: the movable horizontal profiles make it possible to post different sized faces in the same frame.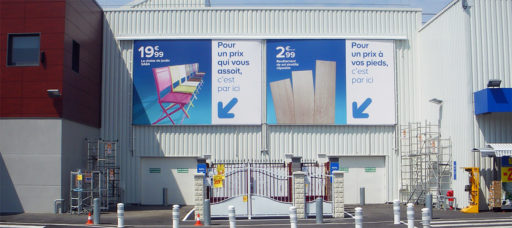 ---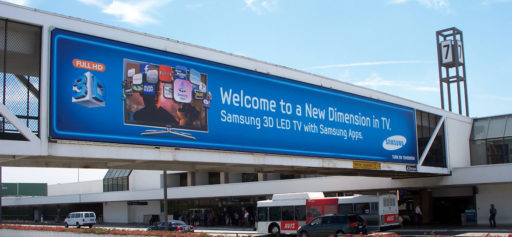 Rigiflex CRIP
Our Rigiflex CRIP is a static zip-in store-front sign. Simply zip in your posters for guaranteed tensioning!
Reliable: ideal for tensioning large format store-front displays without any risk of them coming loose (wind, storms…).
User-friendly: all posting operations are performed from the front for easy access. The sign comes with 2 sliders for perfect tensioning.
---
Prismaclips
Our Prismaclips sign is a backlit lightbox with clip in face-tensioning plastic hems for unlimited communication!
Attractive one shot face (no seams).
Lightweight and customisablefor all formats.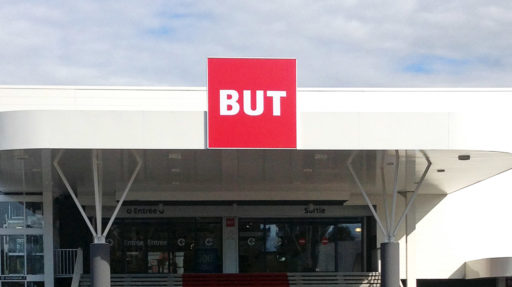 ---

Monumental total covering
PVC advertising banner with peripheral eyelets for fixing with cables and tighteners or directly to a wall with plugs, screws and washers. Total high-end covering in all simplicity!
Ideal for extra big formats.
Economical: PVC skin
---
Stickers
Prismaflex prints a selection of high-end large format stickers and decals:
Standard, either transparent or non-transparent, for long term campaigns.
Repositionable, transparent or opaque, for greater flexibility.
Micro-perforated, to see out without being seen stickers that ensure the light shines through.
Plasticized floor decals with a non-slip treatment in compliance.
A complete range for all your requirements!
Optional finishes: mirror printing, white ink backing, plasticization for underfoot campaigns.
Tailored formats.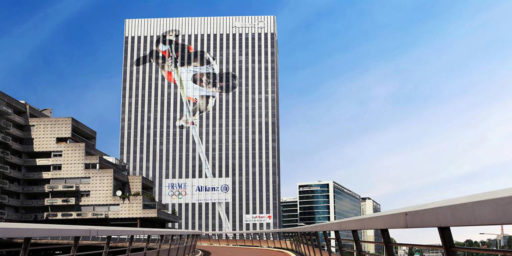 ---
Assembly & installation
Prismaflex can help you find a qualified partner for the hanging of your monumental full covering display.
Watch the video made by our Prismaflex UK subsidiary of the posting of a monumental display at Birmingham University for DMA Signs.