Prismaflex was once again at the ISE (Integrated Systems Europe) exhibition that was held in Barcelona on May 10-13, 2022.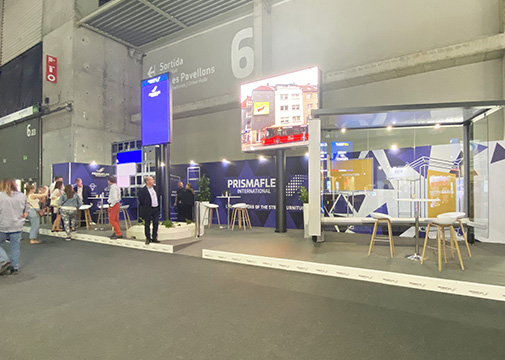 We presented our street furniture line at our 64m² stand:
Coola: a dynamic 6m² P4 display with a centred round pole and Coola casing. The ideal model for advertising purposes.
Sofia: a dynamic 2m² P4 display with a move-around base making it easy to change position if required. The furniture the most appreciated by municipalities.
Vilnas: a bus shelter with double-sided LED city light with a 2.9mm pitch. Ideal for communicating directly with the inhabitants.
We also presented our commitment to Made in France and CSR policies to highlight once again our position.
All our sales team would like to take this opportunity to thank you for coming in such numbers. We hope we were able to satisfy your needs and requirements, and should you require any further information for your future projects please feel free to contact us.
We look forward to meeting you at next year's exhibition.
The Prismaflex team