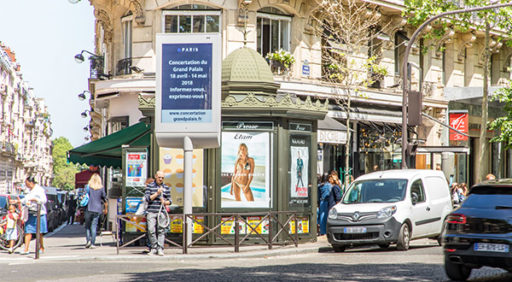 LED or Light Emitting Diode is particularly interesting when adapted and designed for the advertising industry, and more specifically for large digital displays. The material used in the production of our outdoor LED displays has been carefully selected to withstand all weather conditions and offer better visibility and brightness than LCD solutions.
LED offers greater lighting intensity, even in broad daylight. The lighting level means greater colour contrast on outdoor advertising screens. To obtain an LED advertising display, an LED screen is simply fitted into an existing structure.
Prismaflex propose a choice of LED displays from small 2 m² screens to large format 12 m² screens. They are scalable and can be tailored to meet your requirements. Explore the countless possibilities of an LED display, from advertising to presenting sporting events etc,.
Thanks to the high-end quality of digital LED displays, an LED screen is the ideal solution for posting videos, advertising content, slow motion sporting replays and local news.
What is LED ?
LED means Light Emitting Diode. When supplied with electricity, the component gives off light. LED is recognized as an effective, energy-efficient and long-lasting source of light.
At Prismaflex, our LEDs comply with European quality standards and are designed, manufactured and integrated at our production sites.
We propose two technologies for our LED displays: SMD (Single Mounted Device: better contrast, wider viewing angle) and THD (Through Hole Devices: brighter). The technology fully respects EMC (ElectroMagnetic Certification).

LED screens and street furniture
Our LED displays can be used both indoors and outdoors.
Outdoors, the displays have modular structures and can be free-standing, on a pole or used as a wall unit. A range of formats are available for advertising purposes: small, medium or large. Indoors, LED communication is becoming the norm. Indoor displays can be used to present eye-catching messages with both static and animated content that is clearly visible through shop and mall windows.
Production of an LED display
Both the diodes and components of our LED modules are of the highest quality and satisfy the highest visual quality and brightness requirements of the OOH advertising industry. These are then integrated into cabinets for outdoor advertising purposes. The cabinets are therefore composed of LED modules that are themselves composed of diodes (a two-terminal electronic component).
The pitch of our LED displays corresponds to the distance in millimetres between each diode. The lower the pitch, the greater the resolution. For displays designed to be seen from a distance, a higher pitch is used than on displays designed to be seen from shorter distances.
Some of our modules are perfectly sealed to eradicate all risk of humidity, corrosion and related electrical problems.

Our in-house engineering and development unit create the digital displays with a range of different designs to satisfy both your aesthetic requirements and the urban surroundings, from refined to modern and contemporary, and all are adapted to their final location.
Prismaflex is the only manufacturer to control the entire production process of its displays in its own production units. We manufacture the LED Modules at our China-based factory (PrismaChina) and in the United States (Anthem Displays). At our French plant we focus on the design, wiring, integrated safety devices, the mechanical integration of the modules into the displays, the testing, calibration and final inspection, certification and services.
We perform a complete line of tests to ensure quality, dynamic outdoor messaging. Quality control operations are made on our indoor and outdoor large format screens. We also install your LED displays and ensure servicing operations and the maintenance of the LED supports.
Throughout your project we also provide all the technical assistance required.
Digitalisation on the move thanks to our outdoor digital screens!