Today, digital messaging has become part of the urban setting. In the streets, in stores, shopping malls, train stations, airports, etc., LED advertising displays provide dynamic messaging solutions for traditional content (text, images) and also multimedia content such as animated images and videos. LED screens make communicating easier while increasing the impact.
The advantages of digital messaging systems

A digital screen is recommended for informing, warning, relaying information, promoting an event and advertising instantly, rapidly and efficiently. An electronic advertising display means you can:
Relay information in real time (text, image, video…).
Adapt your messages according to specific criteria (weather, time…).
Promote selected messages with programmed turnaround times.
Manage your campaigns and playlists.
Use dynamic feeds.
Animated content on an LED display has a higher visibility rating than static content. It is therefore vital to renew content regularly to continue attracting and to be the most effective.
Content management
Posting operations can be performed independently, in real time and remotely. Content management can be automated by creating campaigns and programming playlists. For advertising and information content, you simply need an Internet connection to communicate in total freedom via your large format LED screen. There are no geographic constraints when using such displays, offering greater flexibility.
Thanks to our Prismatronic Content Manager (PCM) software, managing messages and advertising campaigns is simple. Playlists of templates are also available to help you create your media and relay your messages.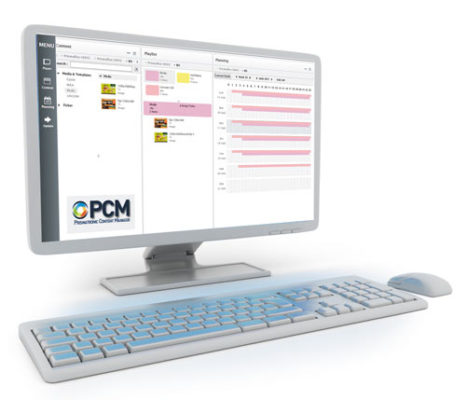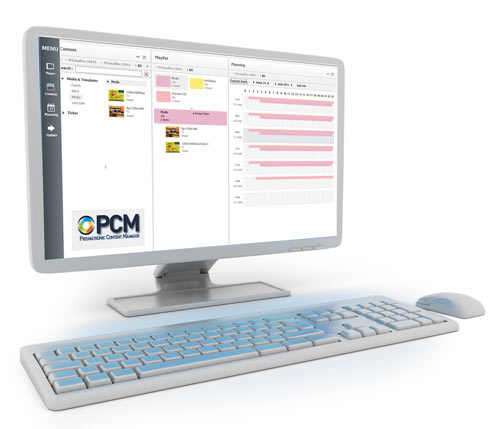 Our content management software means you can:
Promote your products and/or services.
Integrate a promotional video.
Add a programme for upcoming events.
Present news and events.
Relay weather forecasts or other feeds (alerts, horoscopes,…).
Programme one or many displays to run simultaneously.
Consult and share statistical reports for your different messages.
For example, you have a restaurant and want to promote your menu of the day before lunchtime on an outdoor digital screen. Thanks to our digital displays and remote software solution you can programme your message to appear between 10am and 1pm to inform and attract a maximum of customers to your restaurant.
Our digital displays are innovative because dynamic, attractive and adaptable. They offer totally new functions and solutions in terms of the posting and settings of your communication campaigns. A great many sectors of activity use the digital messaging systems to communicate in general but also in a more targeted manner. So why not join them and become an LED digital communicator yourself!