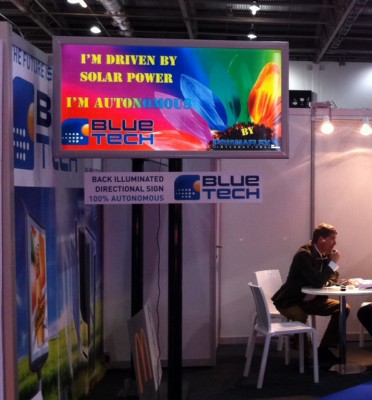 SUNPARTNER TECHNOLOGIES AND PRISMAFLEX SIGN A NEW LICENSING AGREEMENT
Prismaflex International will manufacture and distribute backlit signage using Wysips® Cameleon starting in 2015
Sunpartner Technologies, specialist in Wysips® invisible solar solutions that power smart surfaces, and the Prismaflex International Group, a billboard and display manufacturer, have signed an agreement to integrate Wysips® Cameleon technology into signage.
Following on their first partnership in billboards, this new agreement targets the backlit signage market. The companies will provide the only solution on the market that works off the grid, is energy independent, energy efficient, easy to install, instantly operational, and with an almost instant return on investment.
Visibility, Profitability, Independence
Integrating Wysips® Cameleon components enables Prismaflex International's signage to produce all the energy it needs for lighting. The photovoltaic technology is made invisible by an optical process that preserves the design of any static panel and powers the backlight system with solar energy.
Signage with Wysips® Cameleon eliminates the costs and time involved with connecting to the grid and can be installed anywhere in only a few hours. These signs have several advantages: they not only make the sign and its message more visible, and therefore more attractive to clients, but also use no electricity other than solar. These signs thereby meet increasingly strict regulations with its energy-efficient and environmentally-friendly lighting.
A few figures:
2 – 4 hours: that's the time it takes to install and get a sign with Wysips® Cameleon working.
Several thousand Euros: the cost of digging a trench and cabling to connect to the grid…money saved thanks to Wysips® Cameleon.
5 to 10: the number of hotel nights, depending on the hotel category, that it takes to recover the investment of a lighted sign with Wysips® Cameleon.
A Successful Partnership
The Wysips® Cameleon licensing agreement between Sunpartner Technologies and Prismaflex International plans for products to reach the European market in 2015. This is the culmination of an earlier, successful partnership on scrolling signs powered by Wysips® Cameleon and solar energy. This revolution was hailed in 2013 with the Viscom Award given to Prismaflex in the Innovation category. These scrolling billboards will also be available on the market in 2015.
Philippe Monteillier, VP Strategy & Marketing, said: "This agreement shows that Wysips® Cameleon is now an immediately available solution, ready for target end markets: for scrolling billboards as well as commercial signage, in particular mass retail, hotels, and corporate signage. It is the only solution on the market today that is innovative, economical, and high-quality; faced with increasing regulations, these markets will increasingly focus on quality. We are very pleased with our long-term partnership with PRISMAFLEX INTERNATIONAL, which reflects the ability of two French mid-sized companies to meet the technical challenge of bringing value-creating innovations to market."
The CEO of Prismaflex International, Pierre Henry Bassouls, said, "Integrating Wysips® Cameleon technology into our products is a real advantage for our customers who will be able, from 2015, to benefit from energy-independent backlit signage.  This new agreement follows our earlier partnership on billboards signed in 2011, and perfectly corresponds to our own requirements as well as those of local communities for more sustainable development."
About Sunpartner Technologies
Founded in 2008, Sunpartner Technologies is an engineering company specializing in Solar NETs (New Energy Technologies). They develop transparent and invisible solar energy solutions that are completely integrated into target products without affecting aesthetics.
In particular, the company invented Wysips,® (which stands for What You See Is Photovoltaic Surface), used in four mature technologies: Wysips® Crystal for screens, Wysips® Glass integrated into glazing, Wysips® Cameleon for signs and billboards, and Wysips® Graphics for smartphone casings and smart watches.
Sunpartner Technologies has regularly received awards both from innovation and business communities, such as the Nobel Sustainability® Clean Tech Company award in 2013 and Technology Pioneer 2014 from the World Economic Forum. The company was just named one of Global Cleantech's Top 100 in 2014.
Based in Aix-en-Provence (France), the company has a team of 53 employees.