Digital is now widespread, in cities, towns and district communities. Many people use LED displays. Digital screens, LED displays and LED advertising solutions can be seen both indoors and more especially outdoors. They represent an optimal, large and eye-catching messaging solution. Prismaflex International is a preferred provider of solutions for professionals of the advertising industry, towns and district communities and also the mass-retail sector. The Group provides up-scale technical assistance and creative insight for all new digital projects.
Advertising professionals
Our LED billboards have become a key solution for professionals of the advertising world. Thanks to their large format, advertisers get to benefit from a large surface for their communication offering high scale visibility on the OOH market.
It is the ideal solution for advertising professionals who can showcase their LED display, promote their campaign, messages and video content that is all seen by many people.
Towns and district communities
In district communities, the majority of digital displays are used to inform and relay information to the inhabitants (date, time, temperature, events, traffic info…). Towns also use LED displays known as EID (Electronic Information displays) to send out messages to local inhabitants.
Install digital screens fitted with functions that correspond to your needs. Prismaflex proposes a collection of templates to help you use your display and make your digital communication more eye-catching. These communication supports help enhance the proximity between your town and the inhabitants.
For city locations, we recommend positioning your LED displays in strategic positions, close to heavy-traffic locations such as the town hall, churches and busy roads and junctions.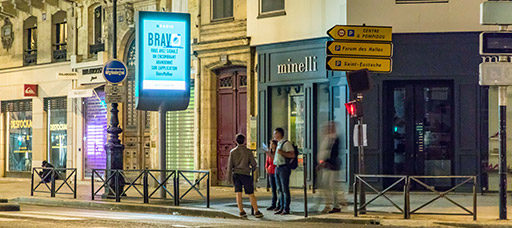 You can of course communicate via one display but for your publicity, local information and other needs and to reach out to a large public we recommend several digital urban displays. Prismaflex displays are designed in such a way to make them easy to manage, even from a distance.
The information displays are fitted with content management software meaning you can manage and create your playlists in real time and from a distance including campaign turnaround times and thus vary the messages to ensure dynamic and efficient communication. Adding or modifying information on one or more display is quick, easy and safe and requires no added specific material.
Mass retail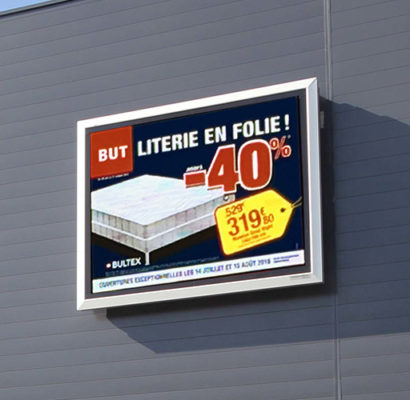 Mass retail outlets can also profit from our indoor and outdoor LED displays and also our back-lit or digital totems and communicate on their products and special offers, etc,. A great way to promote flagship brands.
Communicating via digital multimedia displays is a real asset for mass retail outlets, enabling them to be present and highly visible when advertising their products. On a market that counts a number of different players, this is a great way to stand out and be seen, particularly when large format screens are used.
Digital solutions have rewritten the outdoor communication rulebook, expectations have also evolved and digital screens have become an OOH must. Communicate big thanks to our indoor and outdoor LED billboards!
Many other professionals are going digital, for example retailers (shopping malls and boutiques), sport (stadiums), tourism and travel companies (stations and airports), entertainment (theme parks) etc,.