In just over 30 years, Prismaflex has become a leading name in the manufacture of traditional and digital advertising solutions and wide format digital printing services. We design, manufacture and integrate the large format digital screens into our innovative displays. Prismaflex is the only French company having its own LED module production plants.
Giant digital advertising screens
The Group has a production plant in Shenzhen – China: Prismatronic China and another in Boulder in the United States: Anthem Displays. With these two new LED production units, Prismaflex is in a position to provide the OOH market a full line of digital multimedia displays and digital screens. The Group rapidly made a name for itself on the large format outdoor LED screen market by controlling every aspect of the production process and also its commitment in terms of quality and traceability.
Our LED displays are certified and comply with all international standards. The digital screens are integrated into hardware that is designed and manufactured at our European factories. We have already installed over 300 such displays around the world for our customers and users.

All our digital supports are scalable and can be tailored to your needs. The structures can be personalised in line with the brand name in order to create a unique and differentiating design that suits your media content meaning a number of both formats and designs become possible for your outdoor screens. Our R&D team is constantly working on increasingly advanced LED sign designs.
Our large format outdoor screens can be transformed into monumental screens or both single and double-sided electronic displays. The choice is yours; wall unit, suspended or standing on a pole.
Electronic media for sport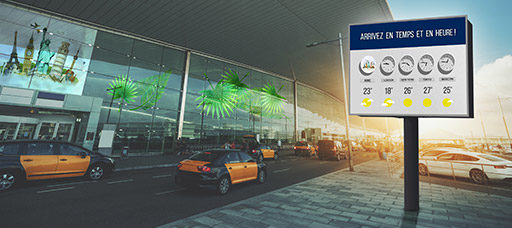 Digital billboards are ideal for outdoor advertising since digital solutions are much more visible than traditional solutions. Many supermarkets, stations, football stadiums and sports arenas, airports and also theme parks have invested in large format LED to create eye-catching and dynamic Indoor and Outdoor digital communication. Whether indoor or outdoor, make the most of a very high definition for outstanding image quality, largely superior to LCD technology, for your advertising campaigns and real-time reactivity.
Managing your electronic billboard is made easy thanks to our remote software solution: BBM (BillBoard Manager). This helps detect errors and offers on-line assistance for all your outdoor large format screens.