Visual Communication
FROM SMART URBAN BILLBOARDS TO NOMAD LEDS, PRISMAFLEX BRING TO LIFE THE AUTOMN SHOWS
Meet us:
26 – 29 September at Viscom Paris and C !Print Madrid
21 – 23 November for the Salon des Maires – Paris

Busy times ahead for Prismaflex International who will be attending the two not-to-be-missed events devoted to visual communication in France and Spain this coming September. All the more so as the two events, Viscom Paris and C !Print Madrid are scheduled on the same dates and Prismaflex has decided to present its latest technological breakthrough at both shows, a nomad LED sign that stands out from the crowd wherever it is placed: the DIGITAL BANNER… And also the exclusive presentation of the all new smartly designed « PARIS » LED billboard: the new generation 2 sq.m digital urban sign that will first be unveiled at Viscom, then at the Mayors and Local Authorities Fair in Paris in November.
INNOVATIVE R&D DESIGNING MARKET-SPECIFIC TECHNOLOGIES … SEE THEM AT THIS AUTUMN'S SHOWS
After fitting out the city of Saint-Etienne at the start of the year with a series of tailored street furniture, Prismaflex continues to broaden its expertise, both in terms of design and technology. After successfully launching its OSLO and RIO digital signs, the French company selected Viscom 2017 as the occasion to showcase PARIS; a particularly high-end digital totem with an innovative design, curved back and protective glazing.
Over and above its experience and reputation as experts in the design and manufacture of street furniture and traditional advertising solutions, Prismaflex International is also a leader in LED advertising signage for the OOH and Retail sectors and continues to develop its range of Prismatronic LED signs, the very latest of which will be presented at Viscom: an indoor Digital Banner. A vertical format LED display that can be placed anywhere, is easy to move and accepts all type of content. The display will also be presented at the same time at C !Print Madrid where innovative retail advertising solutions are in particularly high demand.

C !PRINT: A PARTNERSHIP THAT GOES BACK A LONG WAY.
Prismaflex has never missed the Madrid show and is an active sponsor of the event. This year, the group's Spanish subsidiary Prismaflex Iberica will be lending two LED displays to C !Print Madrid: the much talked about Digital Banner that will be on show at the Plug and Play zone in the centre of the Plataforma, and a large format Die-Cast indoor display with printed surround in the conference zone. Stand C132 is the place to come to see the whole range of the group's POS products and printing solutions, including Prismaflex International's patented Graph'it substrate.
FOCUS OF THE DIGITAL BANNER: THE DIGITAL REVOLUTION FOR POS.
2 sq.m, lightweight, easy to move around, high definition and only 32kg including the bag, this is the ideal solution for event and show communication. The single-sided 2.5 pitch indoor screen is particularly suited to shopping malls, either in shop windows or at check-out areas.
Content to be displayed is easily downloaded using a memory stick or HDMI cable (connecting the Digital banner to a computer) or simply using WiFi (via a computer or smartphone) making the Banner the perfect solution for real time communication!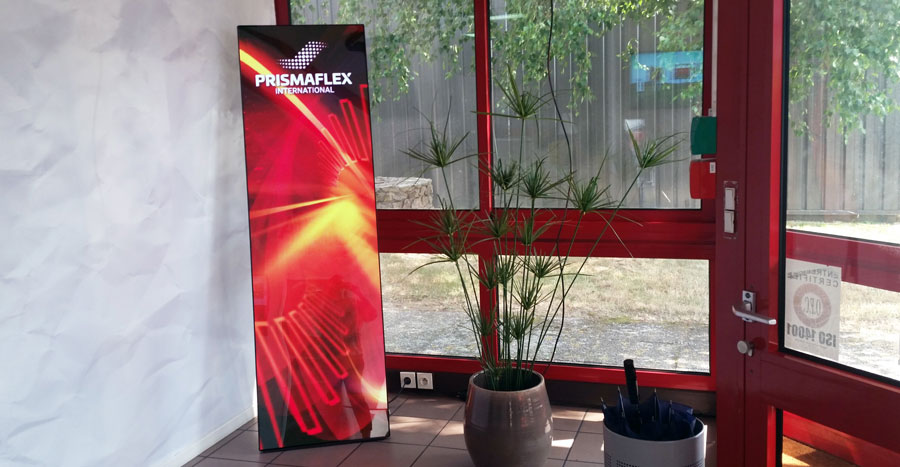 Where to meet Prismaflex: