Prismaflex International, a leading player on the OOH market for many years has also made a name for itself on the DOOH market thanks to its advertising solutions such as LED screens, electronic information displays …  and the number of digital outdoor screens continues to grow in France and abroad.
What is DOOH ?
DOOH or Digital Out Of Home basically refers digital or numerical outdoor advertising.
DOOH involves communicating and advertising on outdoor electronic screens and displays.
Advertising professionals use this new media for their advertising campaigns in high-traffic urban environments.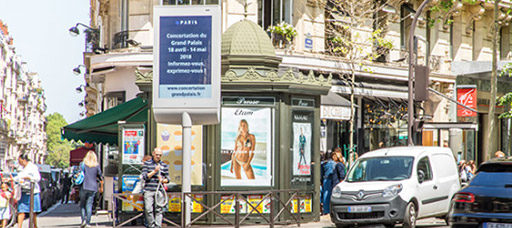 ---
DOOH vs OOH
DOOH refers to outdoor advertising on digital displays and screens, for example LED, while OOH refers to static outdoor advertising using more traditional methods such as posters and paper.
DOOH (Digital Out Of Home) screens represent an extension of OOH (Out Of Home) billboards as you can communicate and manage your campaigns from a distance and in real time.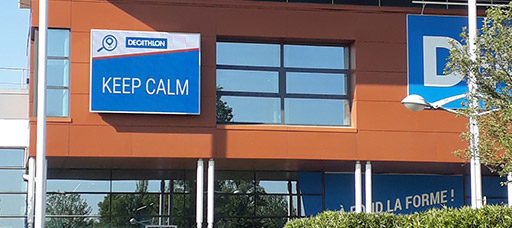 ---
Une solution marketing et publicitaire nouvelle
DOOH advertising displays allow brands and stores to be seen and to enhance their reputation, to generate traffic at points of sale and stand out from the competition. Brands communicate and relay key information or campaigns in real time.
This type of communication can be found in high-traffic urban locations such as city centres, malls, stations, airports, etc,. Advertising professionals can create and deploy their marketing strategy via Road Side Screens (RSS).
Thanks to our remote and instant content management solution, you can relay or modify your messages, post them permanently, occasionally or even at the very last minute.
you can communicate on one or more displays at the same time depending on the position of your target; your target is in town, your message also!
This flexibility in the relaying of your content ensures your campaigns are as effective as possible.
Formats and examples of applications:
2 m² City light,
6 m² LED display,
8 m² LED billboard,
11 m² large format screen,
Wall or free-standing units,
Electronic Information Display (EID) for municipalities.