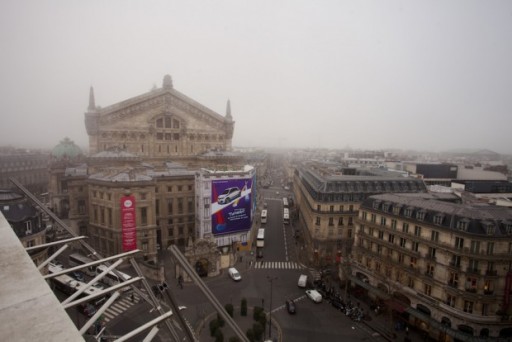 Extérion Média pursues its partnership with Prismaflex International to accompany a major project: the restoration of the façades of the Parisian Opéra Garnier.
The project represents another victory for Extérion Média who were the preferred bidder for the next stage of the renovation programme of the northern façades of the famous opera house. The Opera is a listed building and the work, in three phases, is scheduled to last some 27 months.
The first phase has just begun with the total covering of 1,300 m2, 530 m2 of which have been reserved for advertising purposes which is where Prismaflex comes in, alongside Extérion Média.
What exactly is Prismaflex International providing for the Opéra Garnier
The French-based firm is contributing its expertise for both the finished items (by providing the straps, eyelets and profiles) and the printing (UV on standard 450gf/m2 M1 PVC) for a number of extra large displays. Prismaflex is providing:
4 decorative displays
1 monumental advertising display (33380mm x 18350mm) with 6 changeovers (including December's display)
1 Opera information display (7335mm x 24430 mm) with 1 changeover.
Prismaflex International is a leading light in digital printing operations on PVC substrates, and each year produces Monumental total covering printed displays for a number of buildings and construction sites around the world.