A hybrid industrial printer with outstanding economic and ecological benefits
Already the proud owners of a TAURO 2500 from AGFA, Prismaflex recently acquired a H3300 LED model, a hybrid printer for Prismaflex to satisfy the varying requirements of the different markets and to be even more competitive in terms of wide format digital printing thanks to the machine's outstanding efficiency.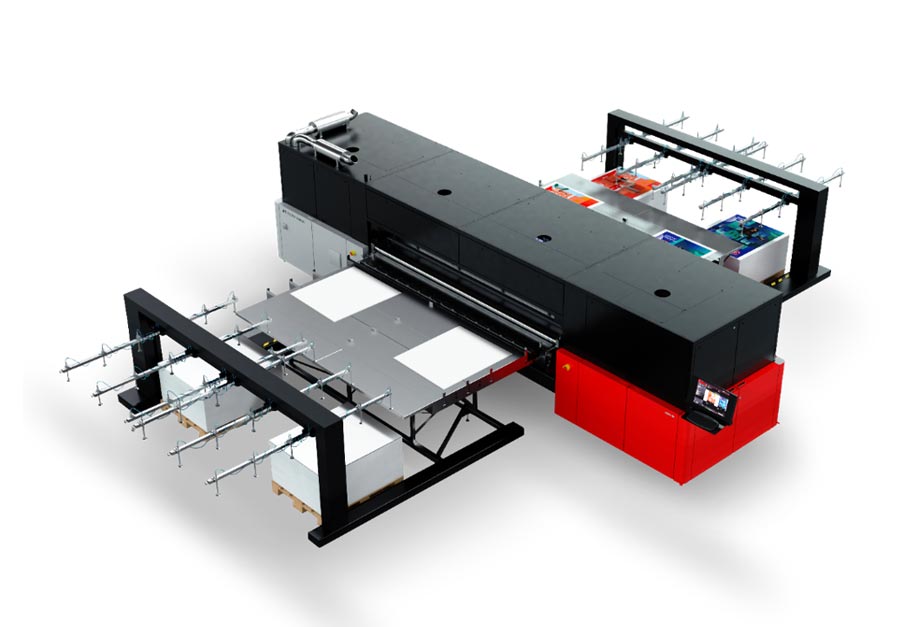 Hybrid, multi-functional and robust for a new outlook
The new Jeti Tauro H3300 LED combines vivid colour prints, incredible productivity and cutting-edge automation for up to 3.3-metre wide printing solutions for billboards and displays.
This hybrid UV inkjet printer produces smooth UV-cured prints up to 3.2 metres wide. It is ideally suited for a variety of rigid and flexible substrates (paper, corrugated cardboard, styrene and corrugated polypropylene) not forgetting countless options to create eye-catching wide-format prints (award winning image quality in six colours).
The Jeti Tauro H3300 LED also offers an unmatched productivity / investment ratio on the wide-format digital printing market. It is designed to operate with jumbos (rolls weighing up to 1 ton): the machine is stopped less frequently for roll-changing operations therefore requiring less man-time.
Finally, over above its obvious economic benefits, this new industrial printer has the lowest ink consumption on the market: fully in line with Prismaflex International's eco-responsible policy.
Already impressed by the quality and reliability of AGFA machines, Prismaflex quite naturally chose a model from the same industrialist to enhance their range and increase production capacity. The thinking behind the acquisition of this hybrid printer is to better satisfy the needs of the different markets Prismaflex operates on such as home décor and high-volume markets (retail, traditional paper posters and outdoor faces). The acquisition also gives Prismaflex the opportunity to tap into new markets.