In 2021, Prismaflex became the referred supplier of Système U for dynamic outdoor advertising solutions.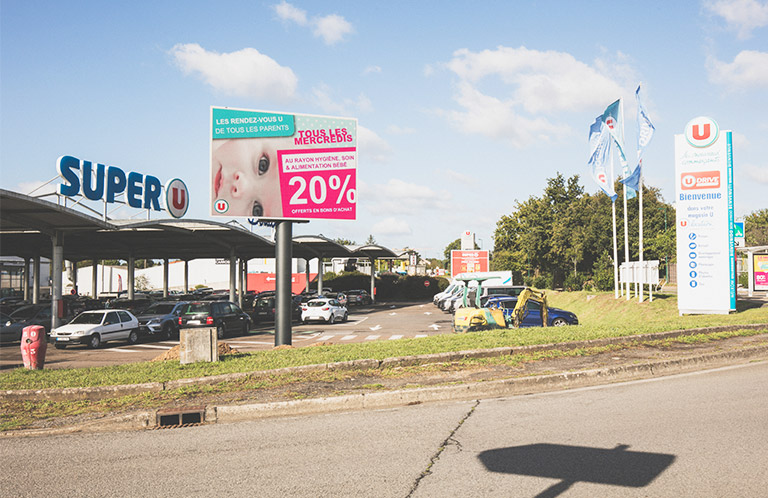 Following a trial at two stores, Système U was convinced by the expertise and reliability of Prismaflex. Late 2020 we installed four test displays in Super U stores in Bouaye and Malemort in the Corrèze: one free-standing 6 m² LED Prismatronic near the access road to the Bouaye store, a 2 m² LED OSLO display at the service station at the Malemort store in the Corrèze, an LED banner along the access road and a 2 m² LED Totem at the store entrance.

The U associates appreciated the all-in-one offer, our reactivity, the quality of the products and ease of use of the digital displays thanks to their compatibility with the CMS solutions of the screens already operating inside the stores.
Thanks to all these qualities, Prismaflex was awarded the trust of Système U who referenced a range of products specifically dedicated to the needs of the stores.
As a preferred supplier, Prismaflex confirms its position as privileged partner for points of sale looking to accelerate their digitisation process. By widening its range of LED displays, Prismaflex can cater for all POS requirements. For the access roads, Prismaflex has LED displays ranging from 2 to 8 m² and also LED banners. For parking areas, service-stations and drive-ins, the same displays are also ideally suited. Also available are LED wall units for façades, from 2 to 12 m². Finally, a store entrance is the ideal location for a LED Totem to communicate on the store and for promotional purposes.